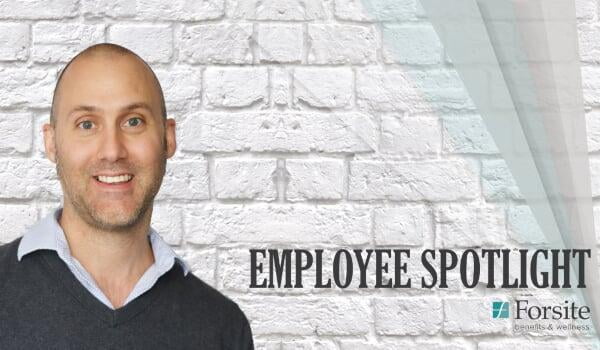 Meet Benefit Advisor, Brad. As the office's source of silliness and laughter, Brad has mastered the art of keeping a level head and influencing others to stay grounded as the days become busy. It has been just over a year and a half since Brad joined the Forsite Benefits team. "I would describe my career at Forsite as being very positive, flexible, and so good for my wellbeing."
What is it that makes Forsite Benefits & Wellness unique?
"It's really quite simple. We are not afraid to try new things. Whether it's a new piece of technology or an idea for a process, the employees are heard and trusted. Additionally, we can implement change rather quickly. The chain of approval for your idea to get moving doesn't take an exceptional amount of time. This allows us to pivot very fast if we need to, and this truly separates us from other brokers. We're nimble."
Why should employers of the Fox Cities, Green Bay area & beyond choose Forsite Benefits & Wellness as their employee benefits broker?
"We're accessible. We really are! There is a solid communication stream within our team and the strength of our staff is absolutely amazing. When you reach out, we make sure you get the best information possible. Among our staff, the knowledge is so vast and the Forsite Benefit Partners are always available for us to use as resources. Always."
What can you tell us about yourself?
"I'm a Green Bay native. My favorite thing about Wisconsin? The Packers. I had to make a decision whether to join the army, which I had my sights set on throughout high school, or delay my military career for the Packers. I bet on the Pack making the playoffs and that was the year we beat the Patriots in the Super Bowl. I got to see that before shipping off to basic training the following month.
I was stationed in Germany for two and a half years which allowed me to travel and experience another culture and try new foods. I absolutely loved my time in the army. I was good at my job. It prepared me for the intangible lessons of life like how to work with all different types of people. You turn into an adult rather fast.
I also run marathons. I don't necessarily enjoy running, but I run marathons. I've ran 6 Chicago Marathons to be exact since 2010. I tried running the Cellcom Marathon but that was the year they cancelled because it was too hot. I ran a really good first 13 or 14 miles, and that's where I was at when they called it."