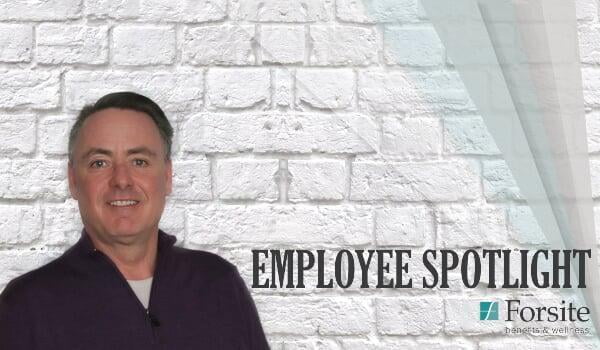 Meet Grant. Grant is one of Forsite Benefits & Wellness' newest faces.
What brought you to Forsite Benefits & Wellness?
"I reached a point in my professional career where I started to think about legacy and the importance of what I've done. After a lot of thought, I decided that I wanted to be able to use my experience, to help an organization in a meaningful way, to do something that mattered. I'd gotten to know Tim Mueller through our son's baseball team and the thing that always struck me about Tim was how positive he was when he talked about Forsite. Tim introduced me to the partners and the team and then I understood why he was so happy here."
What Makes Forsite Benefits & Wellness Unique?
"After 20 years in banking the thing that shocked me the most, and I had to learn to get used to, are the Forsite team meetings where the partners ask the team how to improve the company and serve our clients better. The people at Forsite make all the difference. I've been fortunate to have worked with some wonderful people. The difference is that at Forsite our voices are heard, and we are empowered to impact change. Steve Jobs said, "I don't hire smart people and tell them what to do. I hire smart people and they tell me how to make the company better." Forsite is a lot like that. People underestimate the importance of culture. There is a rare culture here that speaks to the values of Michael, Graham, and Tim (the Forsite Benefits & Wellness Partners).
I'm just learning about insurance and employee benefits, but I've already learned that Forsite is disrupting the employee benefits space in Wisconsin by challenging what business owners should expect from their "broker". The mission is simple; Make Health Care more affordable for businesses and their employees."
Tell us more about you!
"I was raised in Kaukauna and yes, I've heard all the jokes about the smell of the paper mill. Growing up we used to say, "that's the smell of money." Working at the mill is how I was able to go to college. After graduating from UW Madison, I had the privilege of serving our country as an Armor Officer in the United States Army.
Professionally I've been fortunate to have worked in Chicago, New York, London and Milwaukee before moving back home to raise my kids. Friends call it 'the Valley magnet'. I am blessed to have two great children who still have all four of their grandparents. We moved back in 2013 and the relationship my kids have been able to have with their grandparents is the greatest gift I could ever give them. My wife, Kacy, teaches at the elementary school she attended as a child.
In banking, I went from bank teller to bank president. Along the way I learned that you can help your clients most by listening. My job was to really know their business well enough to help them achieve their personal and business goals by seeing their company from a different perspective, not selling them some product. I think I offer my clients a unique perspective on the financial performance and trajectory of their businesses. I can't wait to introduce people to Forsite!"