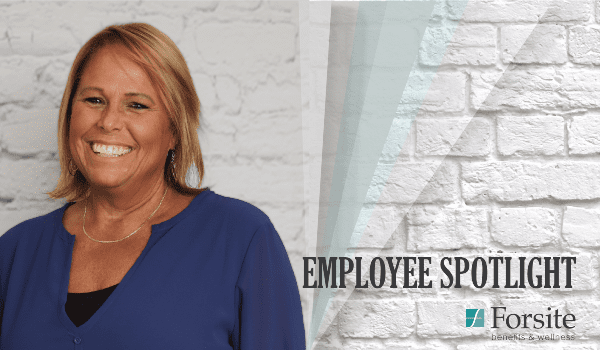 Meet Benefit Advisor, Lori. A true jack-of-all-trades, Lori is the support for our external customers and internal team members alike.
Coming up on a 10-year celebration in 2020 of working for Forsite Benefits & Wellness, her office sports the coziest seating for the hourly visitor in need of advice.
What does a typical day look like for a Benefit Advisor at Forsite Benefits & Wellness?
"There is no typical day. That's why I love my job!" Is Lori's answer. "Each day brings new puzzles, and I'm here to make sure that our clients are getting everything they want and need out of the benefits we're providing."
We can assure you that Lori is the person you want to solve all your quandaries. Her reputable background is made up of 30+ years working in every corner of the insurance industry.
"Unfortunately, other companies I have worked for did not see all clients as equal. I have always believed in doing the right thing for every client, regardless of their size or monetary value. I was frustrated by this restraint because I knew I could help all clients in need. That's why I joined the Forsite team."
What is it that drew you to Forsite Benefits?
"The passion everyone here has for their craft. You can't teach someone passion. Either you have it, or you don't. And at Forsite, we welcome passionate people to the team. What I love about Forsite, is the respect the leadership team has for our employees, and the wonderful way in which everyone is treated, and how we treat each other. No one feels like a number here."
Can you tell us about one of your proudest career moments?
"I had a high-dollar claims client who was in a sobering situation with cancer. He was being penalized for missing a few steps in the claims process, and his bills were being denied. I just knew I had to do the right thing and fight for his case. It took me 6 months, but I was able to get his bills paid in full. Sticking to these cases and doing what is right feels great. My career here has been enjoyable, driven by passion, and very fulfilling."
What can you tell us about yourself when you're not in the office?
"I'm a West Side native of Green Bay, Wisconsin. I love the changes in season here. In the summer, my husband and I love to go jeeping. We also have a cabin get-away with a boat to spend some time on the water. I love doing crafts: especially making blankets. I'm also an avid baker which everyone knows. Something people may not know about me? I can play the piano!"